Corgilope
Convention Portfolio
Howdy! Click "Portfolio" or scroll past the buttons below to view the items I offer at conventions or click "Table Display" to view an offsite gallery of my past table displays (the display pictured is the most recent).My primary goal when selling at conventions is to provide a convenient jumping off point for character creation so that new and old furries alike can find an image that suits them!Previous Successful Events Include:
Midwest Furfest, Anthrocon, Anthro New England, Denfur, and Megaplex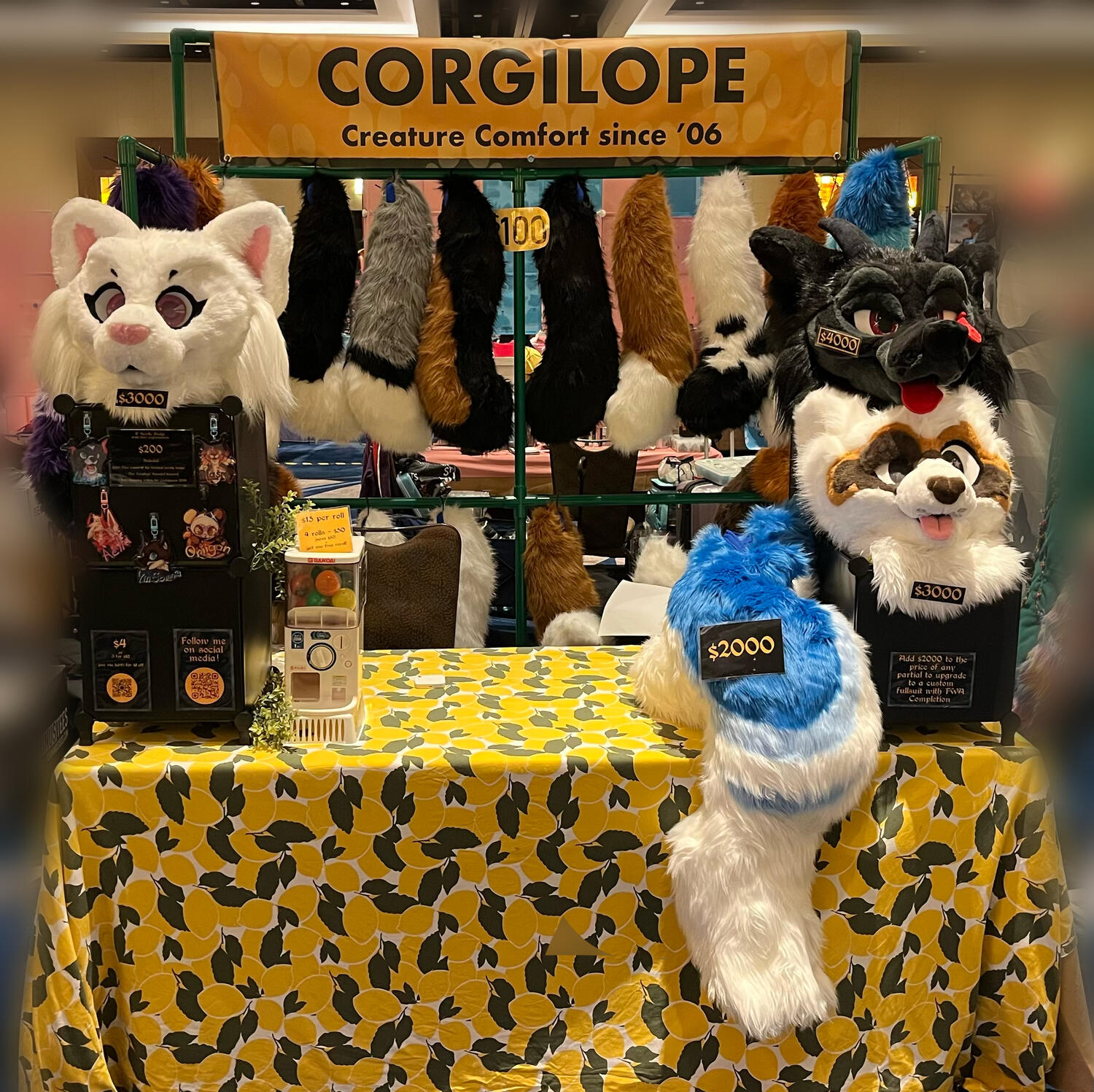 Tails
$40 - $100 - $200
large tails with two sturdy beltloops
Most of the 100+ tails I bring to conventions lean towards the realistic side in both color, texture, and pattern. I also offer "adopt-a-butts": inexpensve tails that act as a jumping off point for new characters. I offer an additional service for all of my tails; for a fee I design a new character and draw a reference image to match.
---
GachaPAW
$15 (4 for $50)
160+ Unique Designs per Convention
"Gachapaw" is the name I use for my gachapon machine. The machine is stocked with over 160+ unique acrylic charms drawn and designed by me. Because each charm is unique, they act as an adoptable and come with a matching reference so the customer can instantly commission art of their new character from other artists in the hall.
---
Digi-legs
$2000
bodysuits from the waist down + tail
Put simply, "Digi-legs" are fursuit pants. These pants give the appearance of animal legs and are a comfortable way of giving a fursuit partial a little extra life. My digi-legs have a hidden zipper in the front that allows access to the large beltloops that are used to adjust the size and keep the legs secure. The legs come with matching feet and a tail that can be worn separately.
---
Partial Fursuits
$2000 - $3000 - $4000
head, handpaws, and a tail
Not just a head, these partials come complete with the parts needed to wear them as a finished costume! Each partial fursuit comes with a character reference so the new owner can start commissioning art of their new character at the convention. I also include the option to upgrade these partials into fullsuits after the convention!
---
Acrylic Conbadge
$200
4", double sided with two expressions
Vibrant artwork sandwiched between thick acrylic, customers don't have to worry about these conbadges bending from convention shenanigans! Each commission comes with two copies of the 4" badge and a lanyard
---
Charms
$15
3" double sided acrylic, six designs
These acrylic charms vary from the "gachaPAW" charms in that these designs can be bought by multiple attendees and are twice as large. Perfect for customizing bags and lanyards!
---
Stickers
$4 (3 for $10)
3" matte vinyl, six designs
The stickers I offer are 3" by 3", matte, and a few of the designs have fun finishes. These stickers are also not just waterproof but weather-proof; perfect for those who want to decorate their car or water bottles.
---
© Corgilope. All right reserved.
Thank you for considering me!